How to build a sales training program & evaluate its impact
Feb 27th, 2023
Building and maintaining an effective sales training program is a difficult and continuous process. That being said, there are tools and best practices you can use to speed up the process.
Brainshark, a Bigtincan company, is a sales enablement solution that:
Makes creating training content easy.
Helps you track sales reps' learning progress.
Lets you evaluate your training program's impact on sales KPIs.
In our years of experience in helping sales teams, we've found that a few key questions should be considered in order to build a successful sales training program:
In this post, we'll discuss these questions in detail while showing you how to build and evaluate your program with Brainshark.
Ready to start building the best sales training program for your team? Book a free Brainshark demo with our team.
What onboarding and training tasks does your program need to include?
Some organizations conduct all training online, but many teams need a hybrid of live and online training. The problem is that a lot of sales training tools only support online tasks (such as video trainings or quiz assessments).
So, if your program needs to include any live training sessions (either in-person or virtually) or 'to-do' lists (i.e. set up healthcare), you'll have to manage that in a separate place from the rest of your training.
Brainshark helps you accommodate live training sessions and 'to-do' lists in addition to traditional video trainings.
Manage live training sessions
There are many instances where companies want to manage live training sessions. For example, you may invite a guest speaker to do a presentation and Q&A with your team or have team members do role-playing exercises to practice different sales scenarios.
With Brainshark, you can choose to schedule a training session where you do a live presentation with a tool like Zoom or Microsoft Teams. Then, you can manage enrollment from right within Brainshark.
These live training sessions can be added as a part of reps' curriculum or as a stand-alone course. As a result, reps will get credit for attending the live session and it will show up in their training history.
Additionally, you can record and save valuable live sessions as a permanent Brainshark course for all reps, including those who couldn't make the live event.
Create and assign "to-do" checklists to reps
When starting a new job, there's usually a long list of onboarding tasks that need to be completed, like getting the necessary hardware and software set up, receiving account credentials, and going through mandatory HR training.
Typically, the process of assigning and completing such tasks is managed with spreadsheets sent via email between new sales hires and their managers. The idea is for the rep to go through each item in the spreadsheet and mark it as complete while their manager periodically checks up on the process.
However, all of this back and forth requires more effort from the manager and makes it easy to leave things undone. That's why Brainshark lets you create checklists with onboarding tasks and assign them to reps like a course. 
This is really useful for new hires, as it visualizes the tasks they must complete while avoiding endless email chains and clunky spreadsheets.
When you assign a checklist to a rep, it will appear next to all other onboarding and training materials they have to complete. That way, all of the onboarding and continuous learning materials are in the same place, making it easier for managers to follow up on new reps' progress.
And, to make lists less imposing, you can create multiple shorter lists where the next list is automatically assigned as soon as the previous one is completed. This makes the onboarding process less overwhelming and helps reps prioritize their tasks.
Where will you get the information to create new training materials?
When it comes to creating new training content for your program, you either have to do your own research or get pre-made content from subject-matter experts (SMEs) at your company.
The second scenario can make your job much easier since you'll be able to use tailor-made content. If you can't rely on in-house resources, you'll have to research and create the training from scratch. And, reps may be less inclined to trust or engage with the content if it's not coming from someone with recent, personal experience on the topic. In these cases, you'll likely need to collaborate with sales leaders and other SMEs who can lend credibility to the training.
Brainshark can help you in both situations — whether you're using existing documents to build training or starting from scratch. Specifically, Brainshark lets you:
Easily create trainings from existing documents, slides, and PDFs, into training materials.
Let SMEs add voiceover to increase the credibility of training materials.
Easily create interactive trainings from existing content
Most traditional tools for delivering training (called learning management systems or LMS) require advanced technical skills to create and deliver educational content.
This is a problem for sales training since new materials need to be added all the time and old ones must be regularly updated.
Brainshark, on the other hand, makes it easy for anyone to create training content in less than 10 minutes, without any advanced technical skills.
You simply upload any of the existing materials your go-to-market (GTM) teams already have on topics like product knowledge, sales methodologies, cold calling, sales strategy, customer pain points, shortening the sales cycle, and more.
Then, add quizzes and other interactive elements to make the training more engaging.
With quizzes, you can set it up so that they automatically move on to the next page once an answer is selected. Or you can design branched and weighted questions:
Branched questions let you decide what reps see next based on their answer to a question. For example, if reps select the wrong answer to a question, they can be sent back to the part of the training that covers that topic.
Weighted questions let you put more emphasis on some questions over others or create quizzes that segment trainees into categories. For example, you can create a quiz to gauge each rep's personality traits. Answers with a higher weighted value may indicate they're more socially confident and outgoing or vice versa.
Besides quizzes, Brainshark also lets you take examples of real-world Gong sales calls and embed them directly within a course. This is hugely important for remote sales teams, where reps can't learn by listening to their peers' conversations in real-time.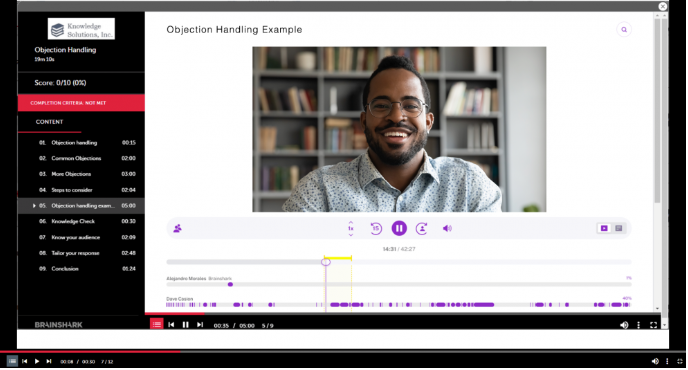 Adding new information to existing content is just as easy, so you can ensure all of your training materials are up-to-date.
All courses in Brainshark also are automatically SCORM compliant, so you can access them on our platform or upload the content to an LMS.
Lastly, Brainshark trainings are available both online and offline and on nearly any device, so reps can get the training they need — when and where they need it.
Add voice-overs to keep reps engaged, increase credibility, and ensure vital details aren't overlooked
As we said, reps are more likely to pay attention to a course that's presented by a sales professional they know and trust, instead of someone outside the sales department. That's why getting respected SMEs to narrate training content is a great way to increase engagement and lend more credibility to your training.
With Brainshark, anyone can easily add a voice-over to training materials in a few minutes.
You can create a recording directly within Brainshark or upload a separate audio file. Additionally, you can sync the audio file to the presentation, add notes, manage volume inputs, and more.
Besides improving engagement and credibility, voice-overs help you focus reps' attention on important details to ensure they aren't overlooked. For example, say that a specific objection has been coming up more and more over the last few months. The SME is likely aware of this and can stress the importance of that objection and explain how to overcome it in more detail.
How is your organization structured?
Most organizations have many different go-to-market teams such as sales, marketing, customer success, etc. Additionally, many companies have multiple teams within each category (e.g. region-specific or product-specific sales teams). Within your own organization, you'll need to consider two things for each team:
Will the same training on prospecting, for example, that worked for other teams, work for this team, too?
What topics are unique to this team?
Often, it doesn't make sense to build each piece of training content from scratch. Instead, it's better to tweak existing materials to fit the needs of each team. Here are a few examples of how you can do that with Brainshark:
Use presentations from product marketing and tailor them to sales teams. You could add or remove slides and questions, get a sales leader to do the voice-over, and substitute the marketing examples for sales examples.
Customize checklists. Onboarding checklists for GTM teams can have lots of identical items like getting CRM credentials, going through diversity training, and trying out the company's product to get a feel for it. If there are only 2-3 items that need to be added or adjusted, it doesn't make sense to build a new checklist from scratch. Instead, you can create a master checklist with topics that everyone needs to cover. Then, you can copy and adjust it with relevant trainings to accommodate each team's needs.
Enroll reps into relevant stand-alone courses and curriculums. For instance, you can assign the mandatory training courses for GTM teams, like product knowledge or buyer personas, to all reps. Then, you can customize each rep's learning path by assigning them relevant courses, based on the knowledge they need (some reps might be enrolled in courses on in-person selling, while others go through online sales curriculums).
How long will your training materials be?
Most traditional sales training programs are between 30 and 90 minutes, sometimes even longer. While comprehensive, such training materials tend to be unengaging and impractical, so salespeople quickly forget most of the information.
The key to increasing engagement and retention is creating a variety of short, easily digestible training materials — called "microlearning" or "just-in-time training".
For example, you can take an hour-long course on your new product and break it down into short videos on topics like:
Product features and their benefits for the client.
Comparable features in competitor products.
Pricing objections and how to overcome them.
Besides being easier to digest and retain, such bite-sized training is really useful for brushing up on something right before or even during a sales call. Since these materials are really compact, reps can quickly find what they need, without sifting through hour-long videos.
And with Brainshark trainings being available online and offline on almost any device, reps can always rely on just-in-time training — whether they're in a call with a client or waiting in front of their office.
The final benefit of short training materials is that they're much easier to fit into a schedule than 30- or 60-minute courses.
How will you manage ongoing and recurring course enrollments?
Assigning relevant courses to reps and following up on deadlines is a tedious, time-consuming task that becomes more cumbersome as sales teams grow. For enterprise organizations, it's almost impossible to manage the whole process without a way of automating most of the work.
Brainshark has different capabilities that can help you avoid most of the manual work that usually comes with enrolling reps in relevant courses. Specifically:
Static and dynamic curriculums. Static curriculums have to be completed once. When the rep completes all courses in a static curriculum, the completed status won't change even when new training is added to the curriculum. Conversely, dynamic curriculums will automatically change to an incomplete status if a new course is added. This is helpful for courses like competitor products or buyer personas, where information changes constantly and reps need to be kept up to date.
Automatic enrollment lets you automatically enroll reps in a new course or curriculum after the one they're taking is complete. This allows you to provide training tasks in manageable pieces, instead of overwhelming reps by enrolling them in all training courses at once.
Recurring enrollment lets you enroll reps to a specific course on a recurring basis, like monthly or yearly. For example, you can use this for product courses to ensure reps are always familiar with your products' latest features.
With these features, you can avoid a large part of the manual work that usually comes with enrolling reps in relevant courses.
How will you identify skill gaps and verify if reps are ready to sell?
After creating the necessary training materials, there are three crucial steps that ensure your sales elearning program is a success:
Keeping tabs on the training process by tracking course completions and identifying skill gaps.
Verifying whether reps can put what they've learned into practice.
Evaluating the programs' impact on sales KPIs.
In these final sections, we'll show you how you can do all three of these things with Brainshark. First, let's start with tracking course completions and identifying skill gaps.
Track and compare course completions in one place
Brainshark's readiness scorecards show you individual and team training completion rates and scores in one report. This lets you:
See each rep's training progress.
Compare reps' progress at a glance.
For example, say you have three new reps who started at the same time and you want to track and compare their progress. Readiness scorecards can show you how many activities each rep has completed, their average scores, and other important metrics in one convenient place.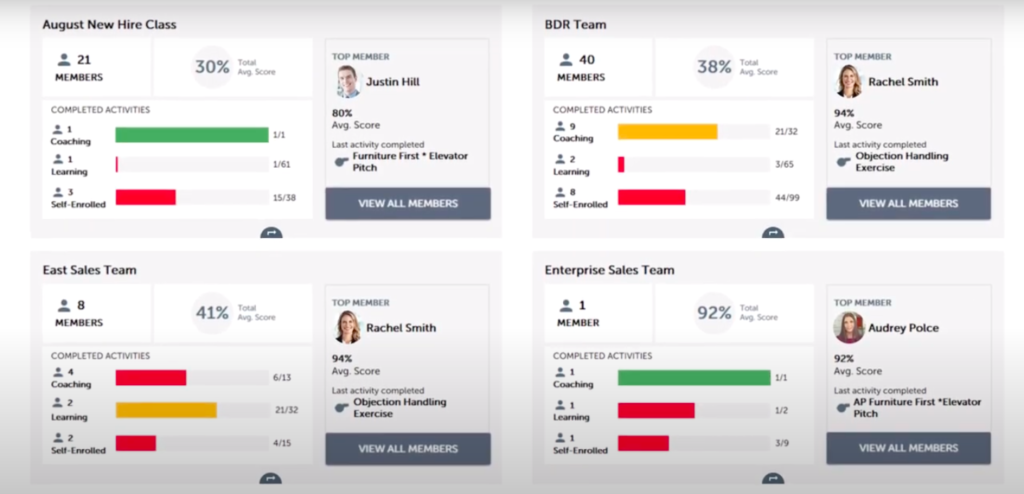 See how reps would do in real-life situations with AI-powered coaching
While tracking course completions is important, it won't tell you if reps actually acquired new skills that they can apply during the sales process. This makes it hard to accurately evaluate reps' readiness to sell and ability to close deals.
To overcome this issue, Brainshark's sales coaching activities allow sales managers to see how reps would do in a real-life scenario.
Here's how:
First, you create an assignment for reps. For example, the assignment can be to record a 2-minute video in which they overcome a common client objection. Then, reps record their answer from within the Brainshark platform or upload a recording they took with their phone.
Before submitting their recording to their manager, reps can share it with their colleagues for feedback, which is a great way to encourage peer learning. Plus, managers also get a more polished final version, since they aren't the first ones to provide feedback.
Once submitted, the recording is analyzed by our AI-powered engine, which answers questions like:
What filler words did the rep use and how often?
Which emotions did their facial expressions portray?
How fast were they talking and was their message clear, based on the level of speech they used?
This process is hugely beneficial for both sales managers and reps.
Sales managers can identify reps' readiness to sell by seeing how they'd do in a real-life situation. Plus, the AI-powered machine analysis automatically gathers valuable insights about reps' communication and sales skills.
Reps can practice their selling skills in a safe environment and gain confidence before engaging in real client calls.
How will you evaluate the impact of your training on sales KPIs and measure its ROI?
So, you've done the heavy lifting of creating training materials and making sure they're engaging and easily digestible. You've organized everything into sales training courses and curriculums and have ways to assign relevant training to reps. You can even verify whether they can put what they've learned into practice.
However, there's still one vital piece missing: Evaluating the impact of all that hard work on sales KPIs. You can build the most engaging, polished, and great-looking sales program in the world. If it doesn't contribute to the bottom line — creating new opportunities, closing more deals, increasing win rate — it's ultimately not doing its purpose.
Brainshark's readiness scorecards, along with integrations to Salesforce or your CRM, let you track individual and team training progress, alongside sales performance KPIs.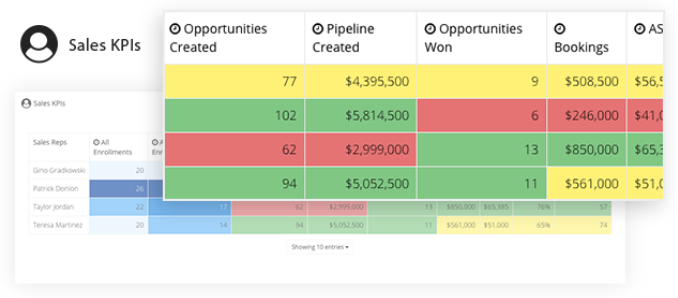 For example, say that among three reps that started at the same time, one has a much lower deal win rate a year after getting hired. Readiness scorecards may show that that rep hasn't completed as many courses as the other two reps. Since all the training progress information is in one place, you can easily see which courses haven't been completed and assign them to the struggling rep.
Not only will this tell you exactly what the rep needs in order to improve, but it also tells you that the training courses actually help reps succeed.
If you're ready to start building your sales training program and feel Brainshark is the right fit for your needs, book a free demo with our team.